Specials
Animal shipments
---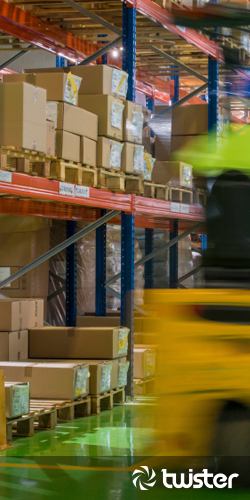 NATIONAL
Delivery nationwide (Islands on request) available until 12:00 o´clock. This service is only available when the day following the day of shipment and delivery is a work day. Overnight shipping from Monday to Wednesday possible (otherwise direct drive).

Shipping for Small animals in containers:
s

mall mammals

(

for example:

rabbits

,

hamsters, mice

,

rats

);

freshwater

aquarium fish;

birds

(

for example:

parrots

,

parakeets

) and

reptiles

(for example:

lizards

, snakes, spiders)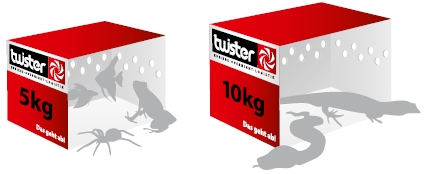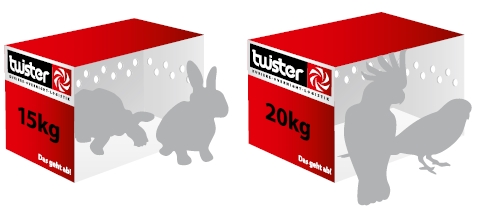 Price
(valid as of 1 august 2022)
Net prices (for commercial customers and companies) exclude 19% VAT.
Gross prices (for private customers and end consumers) include 19% VAT.
up to 1kg 34,00 € net/ 40,46 gross
for each additional kg 2,50 € net/ 2,98 gross
Services
Cash on delivery / delivery plus 5,00 € net / 5,95 € gross
(PayPal without surcharge)
Island surcharge plus 25,00 € net / 29,75 € gross
Date delivery from 15,00 € net / 17,85 € gross
(regular delivery from 8:00 to 12:00)
Collection from 15,00 € net / 17,85 € gross
(regular pick-up from 12:00 to 18:00)
Animal transport carton box from 10,00 € net / 11,90 € gross
Comment: Volume weight according to IATA-standard, L x W x H (cm): 5.000 = kg
Packaging Advice
The transport containers must comply with the requirements of the IATA guidelines.
Container must be

shockproof,

escape proof

and have the

correct

dimensions

Ventilation

,

temperature

(

using

spacers

)

Weather protection

Feed and

water dispenser

(filled

for

twice the length

of the

anticipated journey

time

)

Scattering

(

against

soaking

)

Note

on

live animals

(

Twister

animal

transit document

in the download center)
Information/ Please note!
Twister has a license for the transportation of small animals.
Despite all precautions, the transporting can still be straining on the animal
PLEASE NOTE
Animal

shipping

only

possible with

healthy animals

Various animals

should be isolated

Recipient's telephone number

is required

The presence of the recipient must be ensured
NO SHIPPING OF AGRICULTURAL LIVESTOCK!
Insurance/ WorldCoverPolice
Please refer to the upper liability limits in our general terms and conditions. We can offer additional goods transport insurance on demand. We will gladly inform you of the precise conditions by phone.