Couriers
Services
---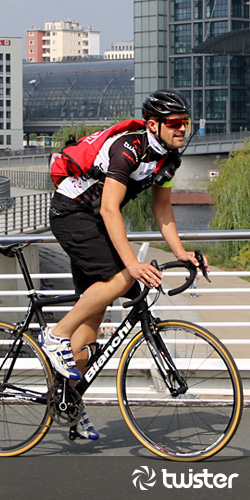 BERLIN · POTSDAM · VICINITY
Interim stop
Save money and bundle your orders. If you have several deliveries that go into the same direction, we will invoice the precise mileage and a fixed fee per stop. The benefit is that only the distance from the respective last stop will be charged from the second address onwards.
Money advance
We will make advance payments for you. Theatre tickets, flower bouquets or gift baskets – up to 50 € advance payments are free of charge for you. A service fee is charged for advance payments exceeding 50 €.
Loading help
Our courier drivers are always on the road on their own. For larger shipments or smaller "moves", you can order additional loading help. You can also order loading help separately (without courier drive) – e.g. when you require 2, 4 or 6 additional hands in the office or at home.
Vicinity tour
We charge a vicinity surcharge for any orders without stop in Berlin or Potsdam.
Example 1 without vicinity surcharge:
Schlesische Straße 28, 10997 Berlin to Eschenweg 11, 15827 Blankenfelde
Example 2 with vicinity surcharge:
Nuthedamm 10, 14974 Ludwigsfelde to Eschenweg 11, 15827 Blankenfelde
Submission participation
Save money and valuable working time. We not only deliver on time but also participate in your submissions on request. We will report the result to you by phone, fax, email or return letter, postage paid.
Unnecessary tour
You can cancel your order at any time. If the courier driver is already at your door or right on site, we will only charge the unnecessary tour. We will also charge the vicinity surcharge outside of Berlin and Potsdam.
Time rate
You want us to deliver and/or collect several items for you? You would like to book 5 bikers for an event? No problem. Depending on vehicle type, we will charge a flat hourly rate. The minimum order time will be 2 hours. Afterwards, every additional ½ hour will be charged. This time rate applies for Berlin only.
24-hour-service
Use our services around the clock, 24 hours a day and 365 days a year. We accept orders from Monday through Friday, 7:00 AM to 7:00 PM, and on Saturdays from 9:00 AM to 4:00 PM.
Advance orders/ Postal tours/ Standing orders
Even though we have very fast response times, we will, of course, also gladly accept your advance orders or set up standing orders for you at fixed collection times. The prerequisite for commercial transport of letters with an individual weight of less than 1000 g is a licence valid for the respective contractual area. Twister Kurierdienst GmbH is registered under license number P 05/2834 for the license area Federal Republic of Germany.
Collective tours
You want us to deliver and/or collect several items for you? No problem – our schedulers will consult you. Settlement will be by the hour, per stop or as a complete offer.
Direct tours/ Round trips
Of course, we will transport your deliveries directly to any place in Europe as well. Please note that the prices for direct tours and round trips may differ from the standard prices. Direct tours of more than 100 km are generally settled via Twister Overnight Berlin. We will gladly make you an individual offer.
Receipt confirmation
On request, couriers will have delivery of your shipment signed off by the recipient. The receipt confirmation will be returned to you with the next invoice or in a return envelope, postage paid.
Insurance/ WorldCoverPolice
Please refer to the upper liability limits in our general terms and conditions. We can offer additional goods transport insurance on demand. We will gladly inform you of the precise conditions by phone.
Cost-centre based invoicing
On request, we will prepare settlement of your courier tours for you sorted by cost centre. Of course, you will not be charged any additional costs for this service.
Online orders
Book your courier orders comfortably online during the business terms. If you have not received any access data from us yet, call us on +49 30 293040 or send an email.